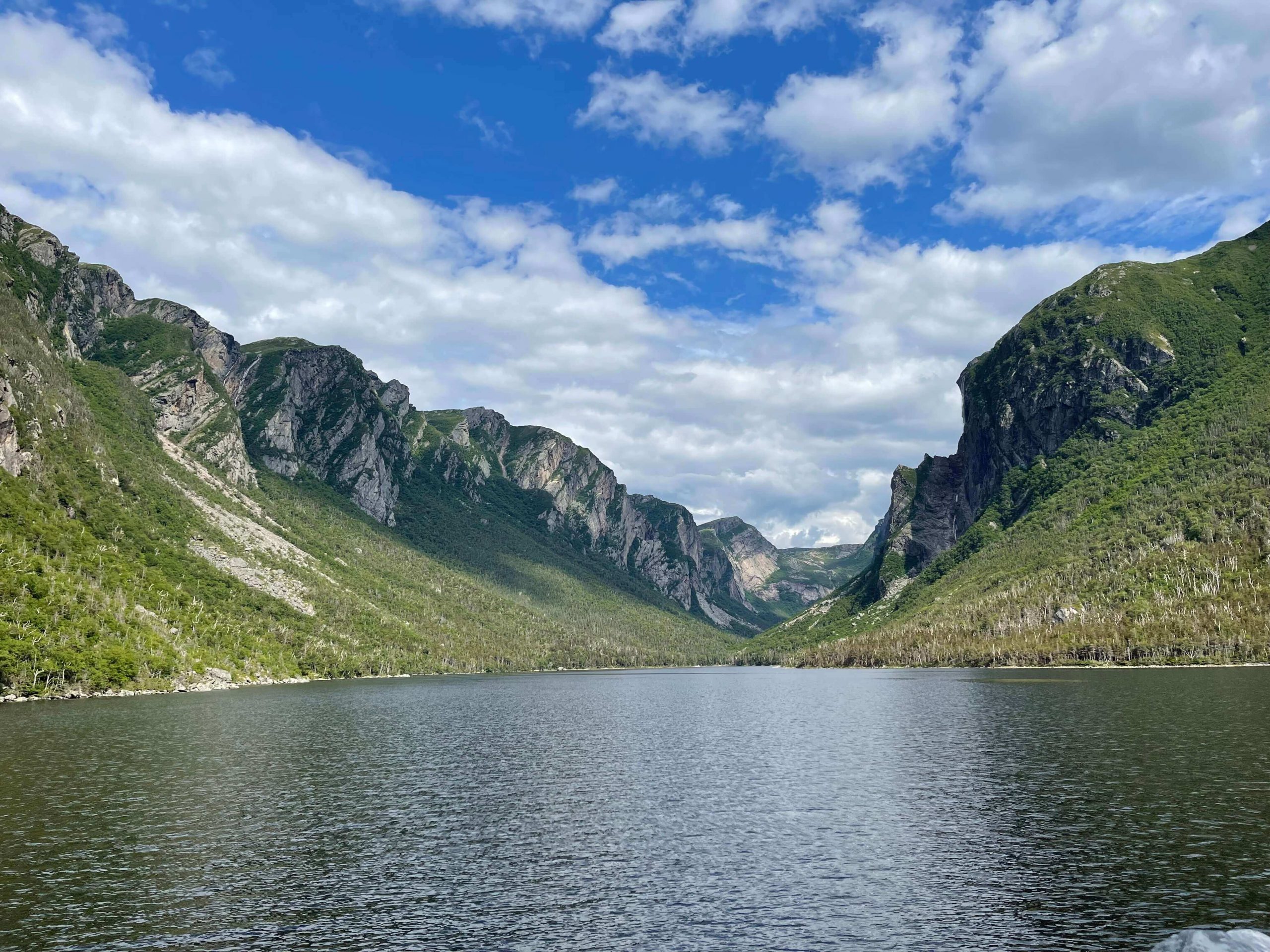 Planning a Trip to Gros Morne National Park, Newfoundland, Canada
Discover the beauty of Gros Morne, the second-largest national park in Canada. Shaped by millions of years of tectonic plates and glaciers, Gros Morne is a 10-mile-long pond gorge surrounded by stunning mountains. With over 230 campsites, visitors have the option to stay in a cabin, tent, or RV.
Safety in Gros Morne National Park
First of all, we don't plan or expect something to go wrong when travelling or camping but it's important to be prepared! Especially when planning a trip to Gros Morne. Here are some general tips to follow when travelling to this breathtaking location:
Check the weather forecast before a trip
Don't feed the wildlife
Try not to leave food around
Do not approach any wildlife you encounter
Bring extra water and clothes
Bring an emergency locator in case you get lost or get in an emergency without cell service. Here are some emergency locators we suggest.
   – SpotX
   – Any 406MHz Emergency Beacon
Make a trip plan with AdventureSmart and stay safe!
How to Get to Gros Morne National Park:
There are several ways to arrive at Gros Morne depending on where you're coming from, such as:
Driving:
Ready to plan a road trip? Gros Morne is connected directly through the Trans Canada Highway. While you can travel there by Plane or Boat if you're looking for an adventure you can travel on the open road.
Air Travel:
The nearest airport to Gros Morne is Deer Lake Regional Airport which is 35km away from the park. Airlines that travel to Deer Lake are Air Canada, Westjet, PAL Airlines, and Sunwing.
Ferry:
The Marine Atlantic offers ferry services from Nova Scotia to Port aux Basques and Argentina and is a 299km drive to Gros Morne National Park. More information regarding the Marine Atlantic is here!
Gros Morne Campground Fees:
Camping One Night:
Berry Hill – $ 33.01
Green Point – $ 33.01
Green Point – $ 26.06
Trout River – $ 26.06
Lomond – $ 26.06
Shallow Bay – $ 26.06
Berry Hill – $ 26.06
oTENTiks – $ 122.64
Rustic Cabins – $ 122.64
Hikes:
Long Range Hike – $ 85.23
North Rim Hike – $ 70.21
Long Range / North Rim Hike – $ 125.30
Best Gros Morne Campgrounds:
When planning a trip to Gros Morne you wanna find the perfect campgrounds to suit your adventurous needs, here is some information on Gros Morne camping!
Trout River Campgrounds:
Trout River is a small rural fishing village on the southern end of Gros Morne. Opening June 18th and closing mid-September on the 12th. Trout River contains 44 campsites, while none have electricity, you can enjoy the massive forests and views.
Lomond River Campgrounds:
Lomond is located on the shores of Bonne Bay. Great for water activities and picnics, Lomond opens June 14th and closes September 12th, and contains 33 campsites along its beautiful terrain.
Berry Hill Campground:
Berry Hill is located near the Lobster Cove Lighthouse and Visitor Centre in Gros Morne. Opening June 4th and closing late September on the 27th it is the only location in Gros Morne with 3 Cabins. It also has 66 campsites and 25 with electricity, perfect for recreational vehicles.
Green Point Campground:
Green Point is located next to the ocean and opens May 21st just in time for Victoria Day. It contains 31 campsites and 8 with electricity. They also have two OTenTiks locations which are new part cabin part tent structures.
Shallow Bay Campground:
Enjoy the blue ocean and sandy beaches in Shallow Bay known for its performances and drive-in locations opening June 4th and closing September 12th it contains 60 campsites, 11 with electricity.
Read More:
Beyond The Beaten Path: Uncovering Cow Head's Best-Kept Secrets And Local Experiences
Restaurant / Food Options:
Seaside Restaurant:
A family-owned purely Newfoundland and Labrador-styled restaurant. Serving unique seafood and offering a great dining experience.
Fisherman's Landing Restaurant:
Offers a warm cozy atmosphere while still showing the Newfoundland and Labrador restaurant theme. Also contains a souvenir shop and liquor express outline.
Seaside Deli and Dairy Bar:
Located across from the Wharf in Woody Point. They offer healthy options containing local seafood, milkshakes, wraps, ice cream, banana splits, and cookies.
Shallow Bay Motel Restaurant:
Located in scenic Cow Head, this restaurant offers a variety of options including seafood, pasta, chicken, and Grecco Pizza. If you can, try to schedule your meal around sunset to enjoy one of the nicer sunsets in Gros Morne.
Best Hikes in Gros Morne:
Gros Morne Mountain Trail:
Distance – 16km
Hike To The Base – The first 4km of the trail hike from the mountain's base to a viewing platform. From there you can enjoy the views of Bonne Bay, the Tablelands, and Gros Morne Mountain You can turn around here for a half-day hike. Hike To The Top – The more challenging part of this hike is an 8km trail loop that ascends nearly 500m to the Arctic-Alpine plateau then descends through Ferry Gulch.
Safety – Be Prepared for cooler, windier conditions as well as sudden weather changes. Take at least 1-2 liters of water. Even when warm at the base, be prepared for cool weather as it is normally colder at the top of the mountain.
Tablelands Trail:
Distance – 4km
The trail curves around the base of the mountain with beautiful panoramic views ending in Winter House Brook Canyon.
Green Gardens:
Distance – 9km
Follow the trail to a beautiful Coastline of Cliffs, Sea Stacks, and Meadows of Green Gardens. Eventually reaching the shore at Old Man Cave.
Lookout Hills Trail:
Distance – 5km
Follow the trail to one of the most beautiful views in the park. It goes through dense forest and emerges atop Partridgeberry Hill.
Steves Trail:
Distance – 900m
The trail leads from Broom Point Parking lot to the mouth of Western Brook through tuckamore forest
Other Hikes:
Old Mail Road
Lookout Hills Trail
Trout River Pond Trail
Trout River – Overfalls
Stanleyville Trail
Lomond River Trail
Southeast Brook Falls Trail
Mattie Mitchell Trail
Lobster Cove Head
Berry Hill Trail
Berry Hill Pond Trail
Baker's Brook Falls
Berry Head Pond Trail
Coastal Trail
Cow Head Light House Trail
Old Mail Road (Shallow Bay)
Experience:
Gros Morne Wildlife Museum & Gift:
The Gros Morne Wildlife Museum houses over 100 different animals in realistic scenes. This allows you to come up, see and take pictures of animals in a safe setting. From the mountain tops to the ocean floor, the museum contains wildlife from everywhere.
Bonne Bay Marine Station:
The Bonne Bay Marine Station on Newfoundland's west coast was made to expand knowledge of marine life in the area. The station now is surrounded by a diverse and beautiful ecosystem of marine plants, fish, and invertebrates.
Explore Gros Morne:
The park offers an adventure in Paradise with beautiful mountains and coastlines and over 100km of hiking trails. In other words, Explore Gros Morne offers a one-of-a-kind camping trip and memories that will last a lifetime.
Websites to check out:
Finally, here are some more websites to check out when planning a trip to Gros Morne.
Gros Morne National Park – Official Website of Gros Morne National
Gros Morne Adventures – Things to do and services in Gros Morne
Gros Morne Wikipedia – Information about Gros Morne
Gros Morne Weather – Government Weather Forecast For Gros Morne
AdventureSmart – Safety Planning, Tips, and Gear
Newfoundland Search and Rescue – Safety Information

Share Your Travel Ponders with us on Social Media
Want to share your travel post with us? Tag us or send us a Direct Message on the following platforms so we can share it with our community.
Follow Travel Ponders on Facebook
Follow Travel Ponders Instagram
Join the conversation and tag us with the hashtag #travelponders
Want to Write for Us?
Travel fiend with a passion for writing?  Have something interesting or unusual to tell us about destinations We want to hear from you!  – Become a Contributor
If there's anything we have missed, please leave it in the comments or send us a message and we'll get it added to the post.
Stay Up to Date
Get our best stuff sent straight to you. Get more great travel content directly to your inbox monthly.