With the help of this article, we will look at some of the best motorcycle rides within Kansas City that you should explore.
The heart of America, Kansas City is located in Missouri. Most people know Kansas because of its remarkable music scene and good food. People from around the country visit Kansas to enjoy a good BBQ while humming to some of the best jazz tunes. If you have a passion to travel, you will get to see people talking about traveling to Kansas City. Your experience in Kansas City will be a little different than any other state if you are traveling on a motorcycle. This is mainly because you will get to see some of the best highways that will spread across the city. For any motorcycle enthusiast, riding a motorcycle on the highway is much easier as compared to the off-roading experience. Even if you don't want to travel all the way, the Kansas City highway can be a great starting point for your motorcycle riding journey.
For a beginner who is looking for a smooth journey especially if they want to ride across safe routes, Kansas City offers you everything. Most people think Kansas is a rural space where the opportunities for enjoyment are very less. However, you will be surprised by the well-kept streets, clean places, exuberant gardens, and some majestic art museums that you might not be able to find anywhere else. Moreover, you will get to see some of the best vintage motorcycle museums so you can meet like-minded people who share the same interests as you. Kansa city is known to be in the middle of America so you will get a lot of motorcycle enthusiasts riding their motorcycles to enjoy the city. You can go for the solo Kansas trip or you can visit some of the best places in Kansas, Oklahoma, and Nebraska.
With the help of this article, we will look at some of the best motorcycle routes within Kansas City that you should explore on your motorcycle.
Southeast Kansas Corner Loop
This loop starches across almost 530 miles and it will take you two days to cover this place. The road is pretty smooth so you don't have to worry about the ride. Moreover, you will have to see that the overall loop is pretty fun because you will find a lot of fun stops. There are a few places for food and stay as well. However, the route is pretty long so it is much better to book a place to stay.
Pretty lake loop
This route covers the northern Kansas City side. You will start the ride from Ferguson road and this will lead you to the lake. You can also visit valley falls but the overall view this route offers is breathtaking. One of the most important things you need to keep in mind is that although the route is smooth and can be ridden by anyone there are a few twists and turns that might test your comfort zone, this is the reason it is best to adjust your pace and practice before you take this route.
Leavenworth to Wyandotte Park
Another fun route to explore, this route offers you a thrilling ride that will lead you all the way to the Wyandotte Park motorcycle road. This road is famous for twists, turns, challenging roads, ascending routes, and some elevated roadsides so make sure you either come prepared or bring along some riding partners that can help you. The best way to enjoy this route is to travel at your own pace rather than
 K-7 to Rulo
This is another very fun route within the state but the best part is that you don't have to be an expert if you want to take this route. While traveling through this route, you will get to enjoy the Missouri river as well as some breathtaking views of the curvy hills and valley side.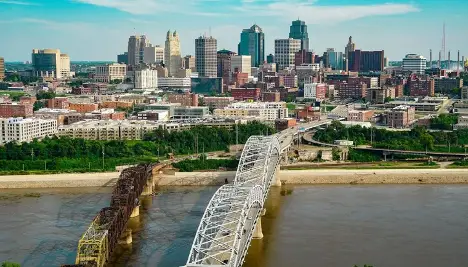 Bottom Line
To sum it all up, it all comes down to the way you plan your trip. When you plan your trip on a motorcycle, the options will become endless mainly because you can practically ride your motorcycle anywhere you want but this is not possible with a car. Moreover, the things you carry with you and the way you pack your luggage also plays a very important role, which is the reason most people need extra guidance in the process. Another important thing is to make sure the route you choose has good enough resting spots where you can wait for a few minutes and enjoy good food. Most of the routes within Kansas have this facility, which is the reason people love to visit Kansas, especially considering the epic barbecue that Kansas has to offer. Although most of the routes that have been mentioned in the list are very safe and even if you are a beginner you can still use the same routes. However, it will be much better if you are an intermediate rider. However, if you are traveling in a group, your experience and riding experience do not matter because you will have support from the rest of the group.
We will also look at some fun activities that you can enjoy when you are exploring the area.
8 Fun Activities to Enjoy While Visiting Kansas City on a Motorcycle

Nelson-Atkins Museum of Art
If you like art and appreciate the cultural heritage of different regions and countries this is one of the best places you can visit. You will get to enjoy and appreciate more than 400 different artworks from different artists.
Legoland
The most fun place to be where you can let your inner child live his dreams. Legoland is exactly what you think. Crafted with Legos of different sizes, you will get to enjoy Lego artwork.
Kansas City Zoo
Best place to visit if you appreciate wild and exotic animals. You will get to see 200 species of different animals from across the globe in their natural habitat.
Science City
Science city is where you can come to learn and satisfy your hunger for knowledge. If you are traveling with family, you have to bring your kids here.
National Museum of Toys and Miniatures
Imagine becoming a giant where everything looks tiny and miniature. While visiting this place, you will feel like you are a giant in a fun city. This place is ideal for families.
American Jazz Museum
Visiting the jazz capital of the world and not visiting the American Jazz Museum, means you have wasted your time. Within the museum, you will find some of the best records by famous singers and jazz facts.
Airline History Museum
If you are into majestic planes, this is the place you need to be. Most aspiring pilots visit this museum and appreciate the evolution of modern aircraft that we see today.