With its picturesque landscapes, charming downtown, and proximity to Acadia National Park, Bar Harbor is a dream destination for nature lovers and adventure seekers alike. As you plan your visit, we've curated a guide to the best stays in this idyllic town, ensuring you experience comfort, relaxation, and easy access to the wonders that Bar Harbor has to offer.
The Bar Harbor Inn & Spa: 1 Newport Dr, Bar Harbor, ME 04609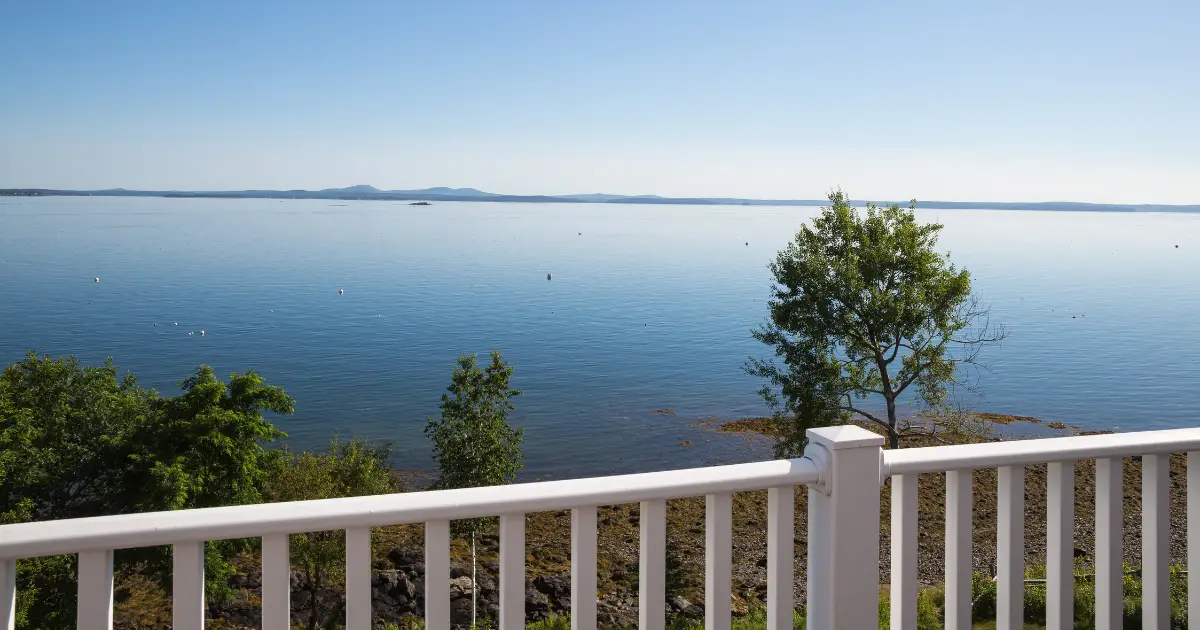 Nestled on the waterfront, The Bar Harbor Inn & Spa is a captivating destination where elegance meets serenity. This iconic New England vacation spot welcomes guests with genuine Maine hospitality and offers a truly unforgettable experience. Overlooking Frenchman Bay and the Porcupine Islands, it provides a haven of relaxation and luxury with refined accommodations boasting stunning ocean views. From decadent bay view suites to oceanfront rooms and garden and grounds view rooms, each option grants access to exceptional amenities. 
Situated on eight beautifully landscaped acres in downtown, the Bar Harbor Inn provides a private retreat with easy access to shops, art galleries, and waterfront activities. Enjoy the convenience of this location while immersing yourself in the wonders of Bar Harbor. With its rich history, refined accommodations, exceptional dining options, and rejuvenating spa services, The Bar Harbor Inn & Spa stands as one of the finest luxury hotels in Maine. Delight in refreshing ocean views, savor elegant dining experiences and experience the tranquility and serenity that await you at this iconic coastal retreat.
Saltair Inn Waterfront Bed and Breakfast: 121 West St, Bar Harbor, ME 04609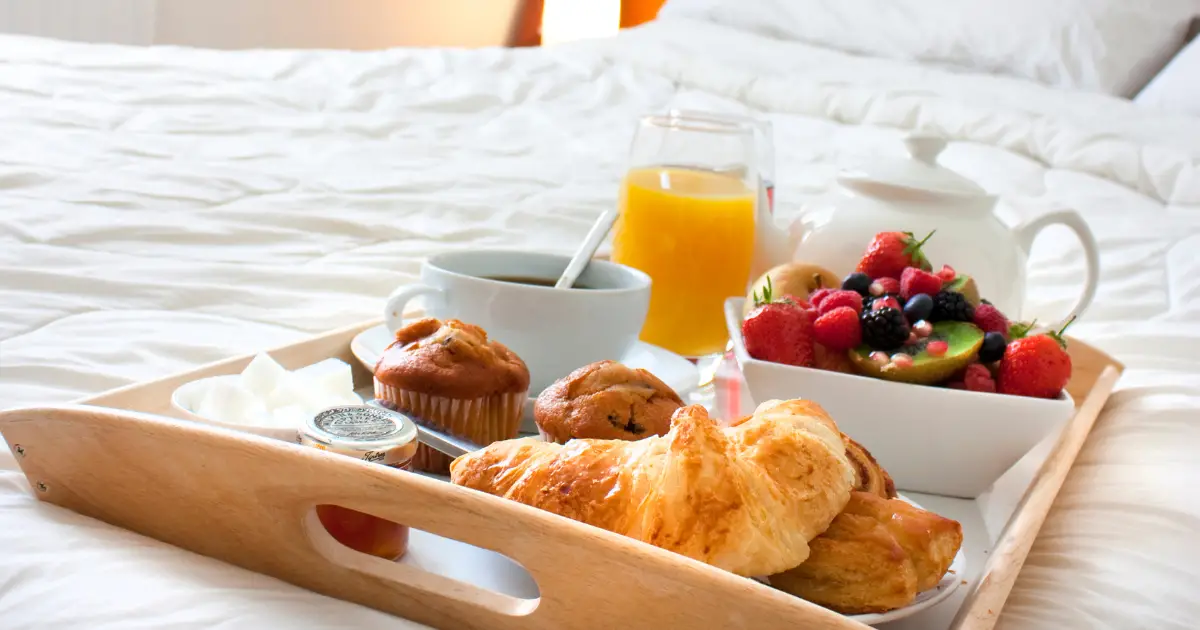 Experience tranquility by the Bay at the Saltair Inn Waterfront Bed and Breakfast. This charming retreat offers cozy rooms with breathtaking views of Frenchman Bay, inviting you to unwind and find serenity. Start your day with a delicious homemade breakfast and relax on the porch as gentle waves create a soothing ambiance. With its warm hospitality and idyllic location, the Saltair Inn is the perfect base for your Bar Harbor adventures.
With eight well-appointed guest rooms accommodating both budget-minded and luxury-seeking travelers, the Saltair Inn offers a range of options under one roof. Enjoy complimentary off-street parking, WIFI access, and full gourmet breakfasts each morning. Delight in the fabulous bay views, friendly innkeepers, and luxurious waterfront accommodations that await your arrival. Experience the tranquility and beauty of Bar Harbor at the Saltair Inn Waterfront Bed and Breakfast, where every moment is filled with the enchantment of Maine's coastal charm.
Primrose Inn: 73 Mt Desert St, Bar Harbor, ME 04609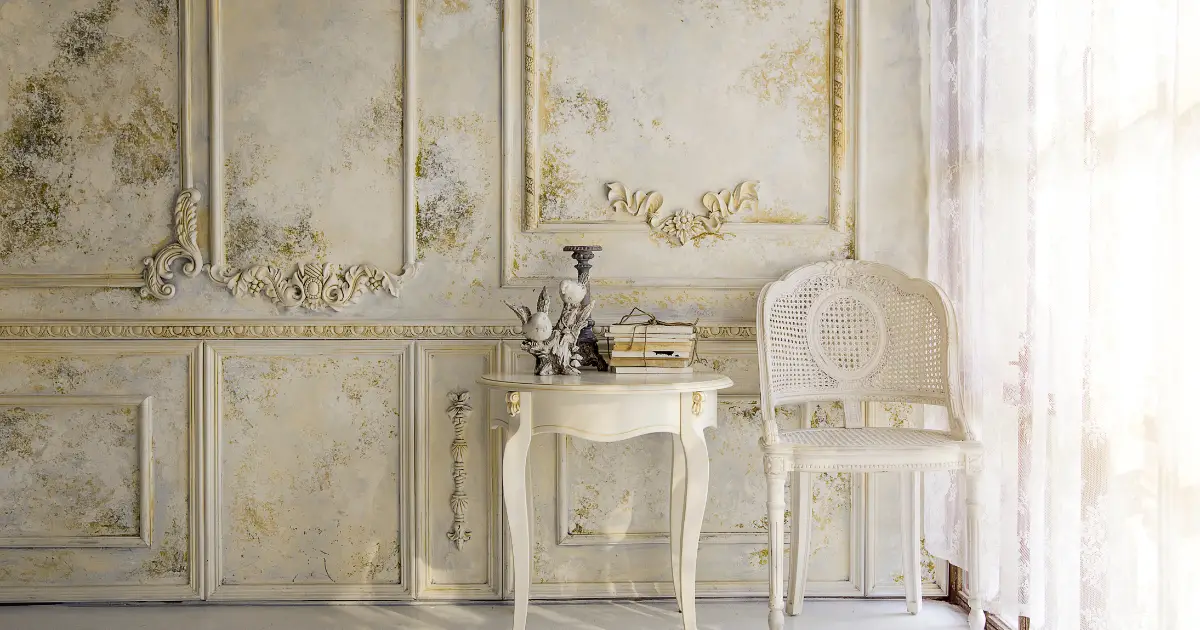 Experience the rich history of Bar Harbor at the Primrose Inn, a captivating bed and breakfast that embodies the elegance of the town's "Gilded Age." Constructed in 1878 by Col. William F. Holland, a prominent banker from Savannah, Georgia, the Primrose Inn stands as a testament to the grandeur of Bar Harbor's past. Located amidst a row of historic structures just a short distance from the Village Green, this inn offers a unique glimpse into the prestigious addresses sought by summer residents during that era.
With its rich history and thoughtful preservation, the Primrose Inn invites you to step back in time and immerse yourself in the charm of a bygone era. As you stay at this remarkable bed and breakfast, you'll have the opportunity to appreciate Bar Harbor's architectural heritage and the unique story of the Primrose Inn. Let the innkeepers welcome you to this enchanting destination, where the past comes alive, and memories are made.
Acadia Yurts: 200 Seal Cove Rd, Southwest Harbor, ME 04679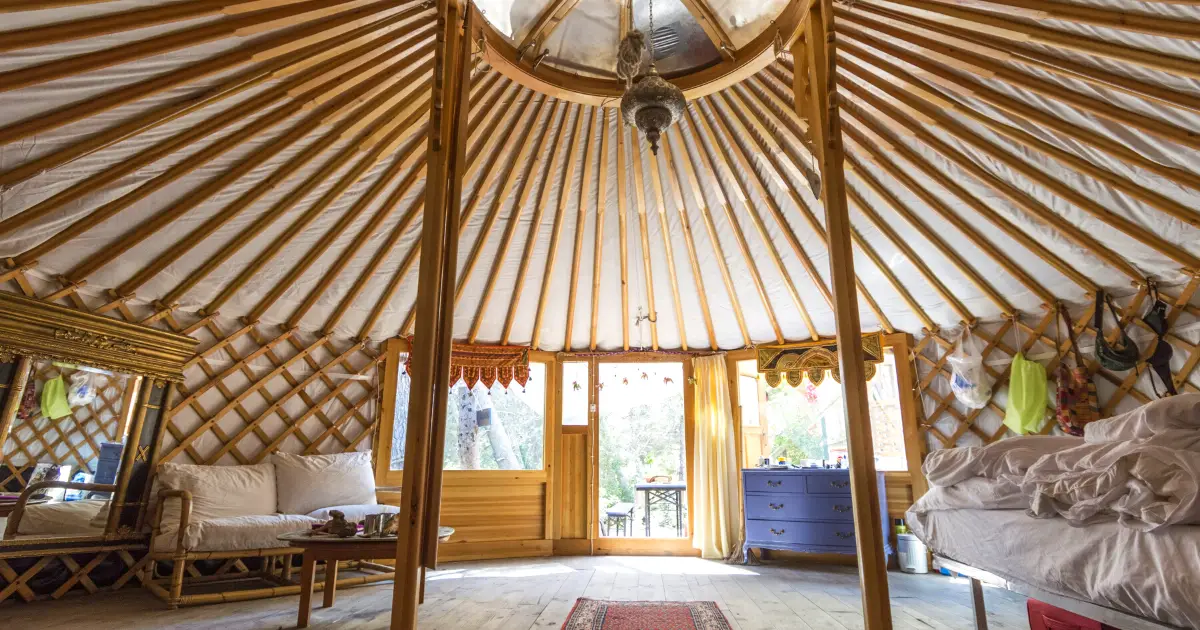 Escape to Acadia Yurts, a haven of tranquility located just 25 minutes away from the bustling town of Bar Harbor. Immerse yourself in the serenity of the Maine woods and experience a truly unique way of connecting with nature. These traditional Mongolian yurts offer a peaceful retreat where you can disconnect from the world and unwind amidst the beauty that surrounds you. Whether you prefer a cozy intimate space or a more spacious accommodation, there is a yurt to suit your needs. Each yurt is thoughtfully designed and tastefully furnished to provide a comfortable and inviting atmosphere. Step outside your yurt and be greeted by the serene ambiance of the Maine woods. Breathe in the fresh air and take a moment to appreciate the beauty that surrounds you. Acadia Yurts allows you to reconnect with nature without sacrificing comfort. 
Experience the best of both worlds; secluded tranquility and easy proximity to the vibrant town of Bar Harbor. Enjoy the peace and serenity of the yurts nestled in the Maine woods, and take advantage of the convenient location that allows you to immerse yourself in the excitement and charm of the nearby town. Discover a unique blend of natural beauty and accessibility at Acadia Yurts, where memorable experiences await.
The Harborside Hotel, Spa & Marina: 55 West St, Bar Harbor, ME 04609
With recently renovated accommodations, this waterfront gem provides understated luxury and comfort, making it the perfect destination for a memorable getaway. The hotel features 193 thoughtfully designed guest rooms and suites, each reflecting the serene beauty of the surrounding coastal landscape. Many of the rooms offer breathtaking views of the island or Frenchman Bay, allowing guests to wake up to the sights and sounds of this picturesque setting. Whether you prefer a semi-private or private balcony, a room with a full kitchen, a hot tub, or a gas fireplace, Harborside Hotel has a diverse range of options to cater to your preferences.
The festivities never cease at Harborside Hotel, with a calendar filled with events and celebrations from Easter through Thanksgiving. Guests can enjoy a variety of festive menus, sprawling brunches, buffets, and a host of activities that cater to guests of all ages. Whether you're venturing out into the vibrant neighborhood or simply savoring the panoramic views of Frenchman Bay, Harborside Hotel, Spa & Marina offers an exceptional resort experience that seamlessly blends outstanding on-site amenities with authentic coastal hospitality.
Ullikana Inn: 6 The Field, Bar Harbor, ME 04609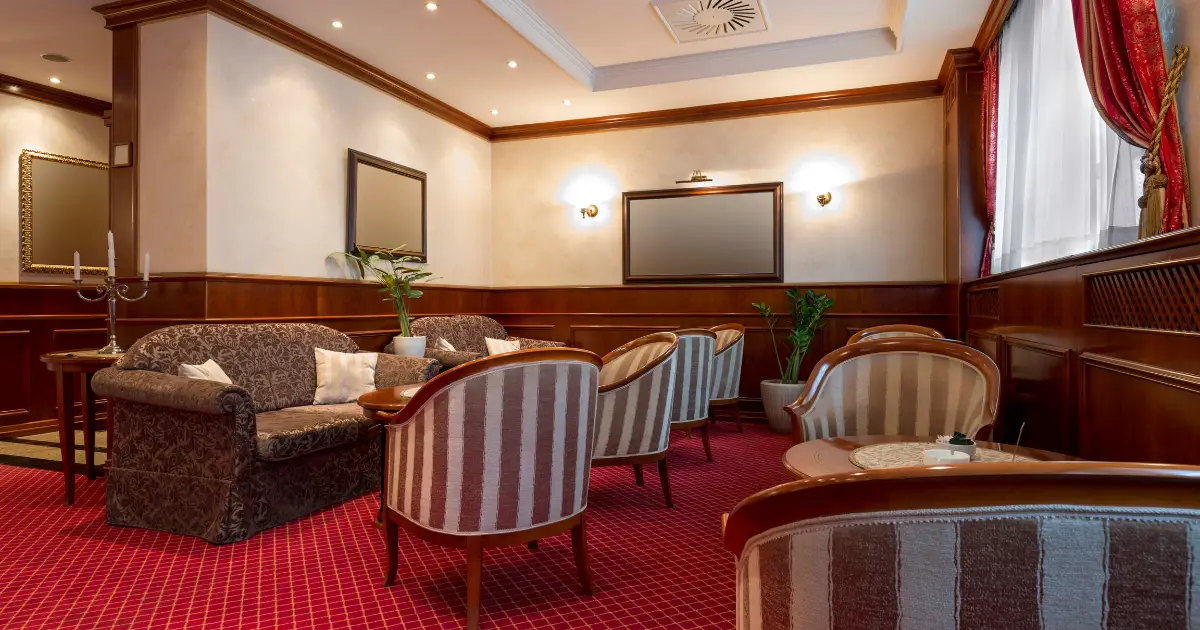 Experience the splendor of Bar Harbor's Main Street and Town Pier at Ullikana Inn, a quiet and luxurious retreat just steps away from the bustling city center. Originally built in the 1880s as a lavish cottage for one of Bar Harbor's affluent summer residents, Ullikana has been meticulously restored and transformed into a charming boutique hotel. Nestled amidst beautifully manicured gardens, this historic home offers a private haven where guests can easily explore the local shops, restaurants, and waterfront activities. As one of the top-ranked inns on TripAdvisor, you can trust in the exceptional service and unforgettable experiences that await you at this historic gem. Discover the timeless allure of Ullikana Inn and indulge in a truly unforgettable experience where history, luxury, and relaxation converge.
Terramor Outdoor Resort: 1453 ME-102, Bar Harbor, ME 04609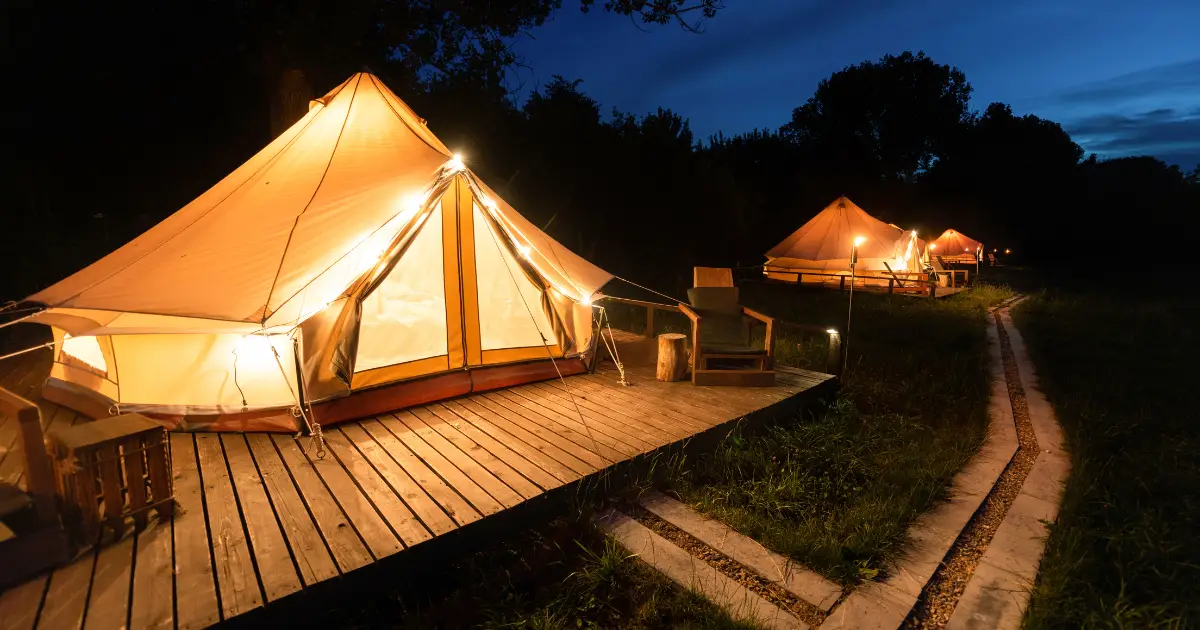 Discover a contemporary luxury retreat amidst the breathtaking natural beauty of Terramor, an outdoor resort that offers a tranquil escape. Nestled in a serene setting with sweeping views of Frenchman Bay, Terramor provides a sleek design, comfortable accommodations, and a perfect balance of modern comforts and the unspoiled outdoors. Whether you wish to relax by the fire pit, explore nearby hiking trails, or simply immerse yourself in the serene ambiance, Terramor is a hidden gem that promises a rejuvenating retreat. Terramor embraces the concept of glamping, where the unfiltered beauty of the outdoors is complemented by resort-like comforts. You can revel in the joy of exploring nature while still enjoying WiFi connectivity and other modern amenities within your tent. Bond with loved ones around the campfire under the stars and indulge in locally crafted microbrews while gazing through a complimentary Celestron telescope to explore the night skies. At Terramor, you no longer have to choose between nature and comfort – it's a refined experience where both coexist harmoniously. Let this outdoor resort be your guide as you create unforgettable memories and embrace the perfect blend of modern luxury and the untamed beauty of the great outdoors.
With its stunning coastline, outdoor adventures, and charming town, Bar Harbor is a destination that captures the hearts of all who visit. From historic inns to waterfront retreats and unique yurts to luxurious resorts, the town offers a range of accommodations to suit every traveler's preferences. Whether you're seeking relaxation, adventure, or a blend of both, let these handpicked stays be your home away from home as you explore the wonders of Bar Harbor, Maine.
Stay Up to Date
Get our best stuff sent straight to you. Get more great travel content directly to your inbox monthly.